DoiT app for Slack
The DoiT app for Slack automatically unfurls links to the DoiT Console and provides metadata and rich previews for Cloud Analytics reports and budgets, making it easy for anyone in your Slack workspace to glean insights from the links you share without logging in to the DoiT Console itself.
Tip
The DoiT app for Slack and the shared Slack channel are two different components. They can be enabled or disabled independently.
Install the app​
Note
Only Slack workspace admins can install applications for Slack.
To install the DoiT app for Slack:
Log in to the DoiT Console, select the gear icon () from the top navigation bar, and then select Integrations.

Select Slack from the left-hand menu.

On the Slack page, select Add to Slack.

Sign in to your Slack workspace.

Grant DoiT International permission to access your Slack workspace.

Read the descriptions about what DoiT International will be able to view and to do.

View basic information about your public channels: To suggest a channel when scheduling messages (e.g., budget threshold alerts) from the DoiT Console.

View basic information about your group direct messages and private channels: To understand which users are missing permissions to view a chart that has been shared.

View people and their email addresses in your workspace: To validate user permissions before unfurling sensitive links.

Select Allow to proceed.
Use the app​
Once one member sets up the DoiT app in your Slack workspace, others will be prompted to connect their DoiT accounts the next time they share a DoiT Platform link. If the connection is successful, shared DoiT Platform links in Slack will unfurl for users who have the required permissions to access the resource.
For example, Cloud Analytics report or budget links you send in Slack will unfurl with metadata and, if applicable, a chart preview.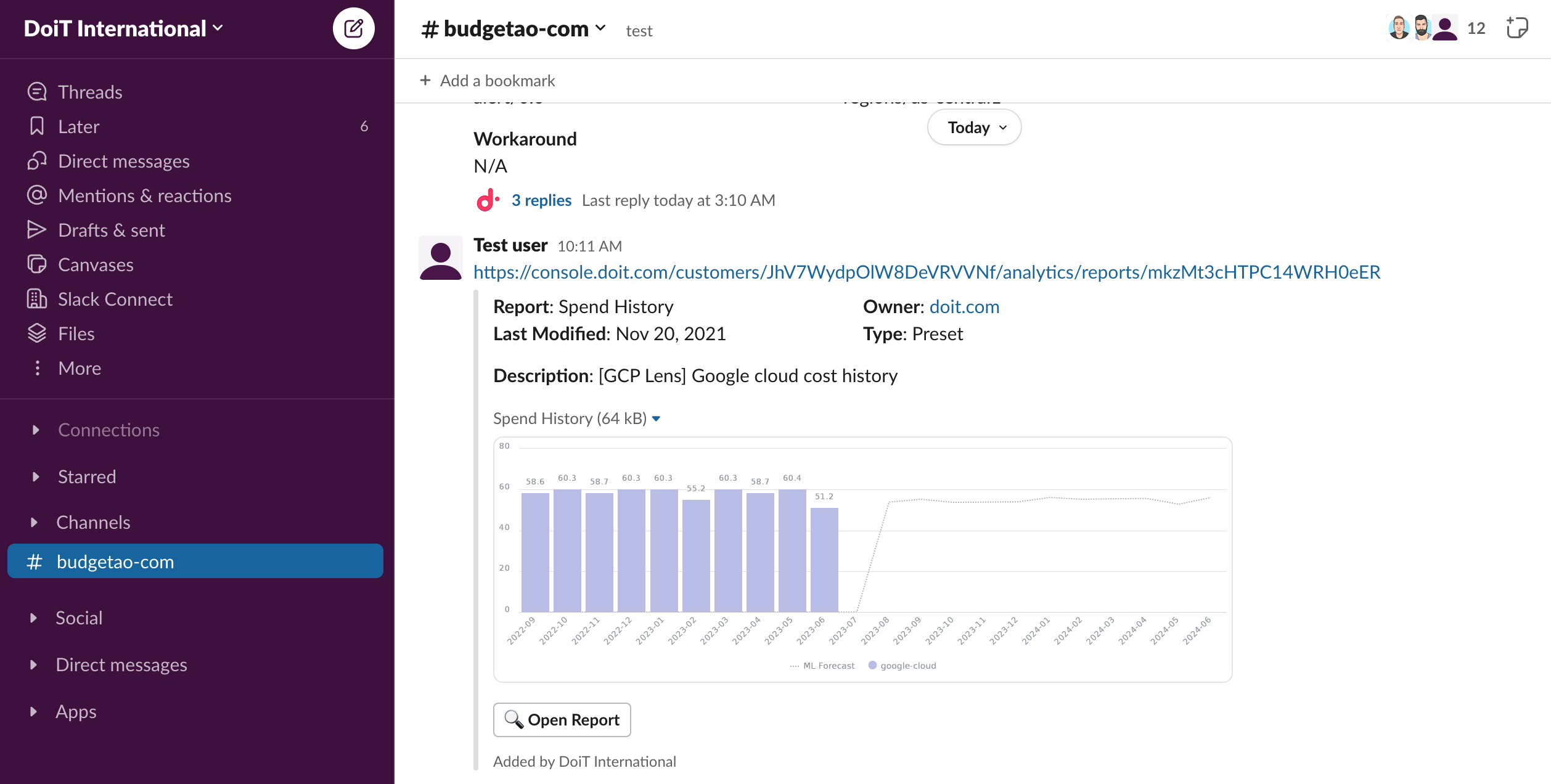 Open a support ticket​
The DoiT app for Slack provides a built-in slash command /doit. Members of your organization can use the command to open support tickets with DoiT in Slack.
Note
We recommend creating support tickets via the DoiT Console, which is the portal of our ticketing system.
Privacy​
The DoiT app for Slack adheres to DoiT International's overall privacy policy.